Swing dance shoes, I can't seem to have enough of them. And I must admit: I have a serious shoe addiction and can't help myself when now and then I buy a new pair of dance shoes. Before I tell you more about the choices you can make in dance shoe heaven, I like to stress that you don't have to buy special shoes for dancing. With almost all dances, but certainly with swing, almost any shoe will do. Especially when you start dancing, you might not want to invest in a pair of dance shoes yet. In this article you'll read about your options. Hopefully you'll find the answers you're looking for in you swing shoe quest.
Do you want to know where you can buy swing dance shoes? Then read the acrticle 'Where can I buy Swing dance shoes'.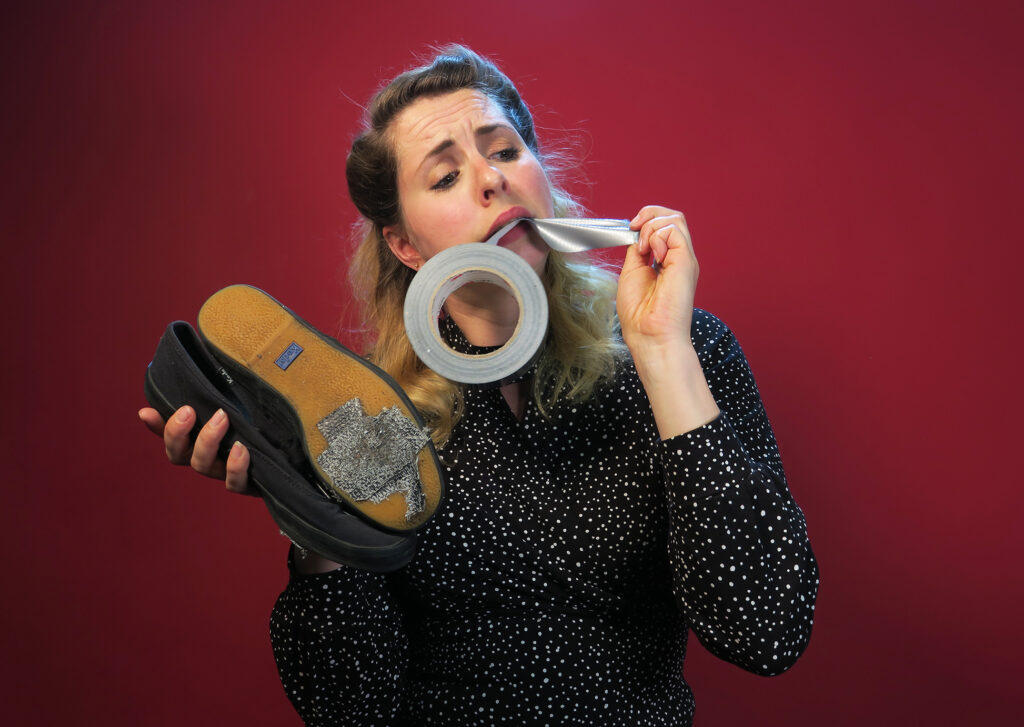 A slippery soles makes a lot of difference
One of the most important things you should take into account when choosing your swing dance shoes is the sole. The importance is depending on which kind of swing you dance. The problem arises when your foot stays on the floor when the rest of your body is rotating. You literally twist your knees and this is how knee ligament injury is caused. By dancing in shoes with a smooth sole, you can largely avoid this problem.
The importance of a smooth sole in Slow Bal
Another solution is to lift your feet well of the floor while dancing. Especially with Lindy Hop, a swing dance style on faster jazz music, you should lift your feet a bit more. This will diminish the risk of knee injury, especially when you're wearing rubber soles that are not so smooth. With Slow Bal you barely lift your feet and they sweep over the floor the floor all the time. If you want to dance Slow Bal, I recommend that you choose a smooth sole. Leather is fine, and suede also works well. Please not that suede soles are not suitable for outside dancing (this will ruin the sole).
Dance sneakers with a smooth sole
Do you prefer to dance in sneakers, but are you still a bit dreadful about stiff soles and possible knee injuries? There are special dance sneakers with a hard sole. An example are the sneakers from Rumpf. They are very similar to Keds in how they look, but have a hard split sole that allows you to turn on the ball of your foot. You can find these types of shoes in specialized dance shops.

DIY smooth sole for your dance shoes
Don't have shoes with leather or suede soles? No worries. I danced for years on a pair of Keds with duct tape stuck under my shoe sole. Stick it under the ball of the foot, so you have a smooth surface for turning. It's not ideal, but works well and is certainly the cheapest solution. Another idea is to promote a pair of sneakers to swing dance shoes and provide them with a suede sole yourself. They sell shoe sole glue at the hardware store and you can often buy a piece of suede at a leather goods store or online. You cut this to size yourself and glue it under your shoe (under the ball of your foot is already sufficient). The shoemaker can also be of service to you, and sticks a leather or suede sole under your sneakers.
Heel or no heel
We can say a lot about the height of the heel, but in the end it comes down to personal preference. If you never wear heels, why would you wear them when you're dancing? The good thing is that nowadays there are quite a few suppliers that make charming dance shoes where you can decide on the height of the heel yourself. From an almost flat heel of 2 cm to a height of 6.5 cm, it is your choice. Choosing flat shoes does not automatically mean that you have to dance in sneakers. Personally, I prefer fairly flat shoes for Lindy Hop. With Balboa and Slow Bal I like to dance on shoes with a small heel.

The shape of the heel
I regularly look with admiration at people who walk in high stiletto heels. It's an art. Swing dance shoes generally have a more solid heel, even if they are a bit higher. This is especially nice when dancing Lindy Hop, but also with Balboa and Slow Bal it ensures that you can have a firm stand. You don't dance on your toes (at least, that's not the idea), but use your entire foot. Swing dance shoes therefore do not have a stiletto heel.
Buying dance shoes online, which size should I choose.
The first tip I can give you is: measure your foot properly. With some of the suppliers, the shoes are handmade and you therefore also provide your own measurements. This makes the chance that you will get a shoe that fits a lot greater. Another tip is to ask other dancers of shoes you like what size they wear. If someone has shoes that you think are your size, you can ask if you can try them on.
More questions about shoes?
I hope this article gives you an idea of the options you have in choosing your swing dance shoe. If you have any more questions, please leave them below in the comment field.
Would you like to know where you can buy swing dance shoes? The check out this article: Where can I buy Swing dance shoes?